Bathrooms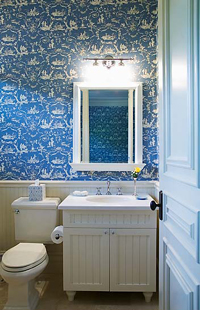 The bathroom is usually the smallest room in the house. Apart from expensive designer baths or crystal bowl wash basins, designs remain simple, basic and uninspiring.
This is because the plumbing set-up often means the key elements of the room cannot be moved. Within these constraints the following hints may help:
Colour - white is the best colour for a suite because it's timeless and matches everything. Consider changing your suite to white - replacement toilets and wash basins can be relatively inexpensive and bath re-enamelling is now more reliable.

Decorating - tile paints and transfers can update and open a small space.

Storage - de-clutter your bathroom. All toiletries and towels don't need to be stored in the bathroom.

Flooring - hygiene and safety are paramount. A wood or vinyl flooring is currently the most fashionable and they help to make a floor space appear larger.

Lighting - building regulations dictate the positioning of sealed units within bathrooms.