Sofa Buying Guide: How to Buy a Sofa Online and Get Exactly What You Want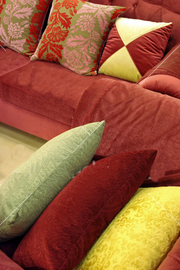 By Vanessa Kirkland
Online shopping has never been more prevalent or convenient. You can buy just about anything with a quick keyword search and a click of your mouse. For the most part, Internet security measures and organizations such as the Better Business Bureau Online have paved the way for more consumer confidence in online shopping. And other advantages such as selection and low prices have kept consumers flocking to their favorite online retailers for everything from dog food to home decor.
But if you're in the market for a large purchase for your home--furniture such as a sofa, for example--you might wonder if turning to the Internet is such a wise idea. Guess what? It is. Simply arm yourself with a few shopping tips and a couple of special safety precautions, and your online shopping adventure can get you exactly the couch you're looking for--and save you big bucks in the process.
Step 1: Decide What You Want
Maybe you're shopping for a new sofa because you're redecorating your living room. Or perhaps your comfy old couch has seen better days and you want to replace it. Either way, it's an important first step to set your priorities:
1. Set a budget. If you're planning on redecorating frequently, set a moderate budget of around $400 to $800 for a new sofa. If you're on a much tighter budget, and you're handy with a staple gun, another option is to look for a used couch you can recover. This approach can save you hundreds of dollars. On the other hand, if you plan to keep your new sofa for decades, set a more generous budget. It's not uncommon to spend $2,000 or more on a handcrafted fine leather sofa.
2. Assess your existing decor. Make notes of the style of furniture you're looking for. Is your living room formal or casual? Contemporary or retro? A home with modern decor needs a sofa with slim, square, clean lines and perhaps a metal frame. A more traditional decorating scheme might call for a curved, classic silhouette.
3. Take note of your lifestyle. Do you have children? Pets? If so, you'll need a durable upholstery fabric that's easy to clean. Leather, microfibers, and tightly-woven fabrics such as twill and denim are best for durability.
4. Take measurements. Write down the length, width, and depth of the area you're working with and keep it with you during the shopping process.
Step 2: Go Window Shopping
With your budget, style, and measurement information in hand, as well as a pad of paper for note-taking, it's time to go shopping. Visit several local furniture stores and browse the options you find--but remember, you're there to look, not purchase just yet.
While browsing, pay close attention to the structural details of the couches you see. Be on the lookout for signs of good craftsmanship in these major areas, and write down the brands and styles that look promising:
1. Frame construction. Whether it's wooden or metal, the sofa's frame should be strong and solid with little flexion. To test it, lift the left front sofa leg slowly. If you can lift it more than an inch before the right leg rises off the floor, the sofa has a weak frame, and it's probably not worth your money. For another test, try to wiggle a sofa arm. If it moves, that's another indicator of a weak frame. Also make note of the joinery.
2. Frame materials. In general, avoid materials that warp or crack, such as plastic, particleboard, and plywood. Opt for strong hardwoods that stand up to reupholstering--maple or oak are good choices.
3. Upholstery. First, make sure the fabric is pulled taut on the body of the couch and on each cushion and that all the seams line up. This is especially important for fabrics with patterns and stripes, since you'll want the patterns to meet correctly across the entire sofa. Also, if you're in the market for a fabric upholstery, you need to know how the material scores in terms of fire safety. To find this information, look for a tag from the Upholstered Furniture Action Council (UFAC). If you need a seriously durable surface, a smart choice is leather. There are many grades of leather to choose from--the firmer, less expensive grades actually withstand more wear and tear than the pricey, buttery-soft grades.
4. Cushions. The material your cushions are stuffed with is just as important as the upholstery. For comfort and durability, opt for blown fiber, fiberfill, or polyurethane foam with a density of at least 1.8 pounds per cubic feet. These options are reasonably priced and last longer than the most expensive fill material--down. Down filling tends to lose its shape and firmness over time. A great option that uses the best of both worlds is a cushion with down and feathers wrapped around a firm foam core.
5. Springs. There are two options for the support system in your couch: Eight-way hand-tied springs and sinuous springs. Hand-tied springs are found on the most expensive sofas, and provide the most consistently even foundation. But preassembled or sinuous coils that are attached to the frame can be just as comfortable and can save you tons of cash. Just ensure that the coils are numerous and tightly packed together and that the spring action is quite firm.
Step 3: Make Your Online Purchase
Now that you've done your research, taken notes, and made a list of all the brands and styles you like, it's time to surf the Web. Go to your favorite search engine--Google.com, for example--and type the name of each sofa you're interested in. The more specific your keywords, the better results you'll get. As you make your way through each of the listings, be on the lookout for the best prices from the most reputable online merchants.
Keep the following shopping tips, compiled from the Better Business Bureau and the National Cyber Security Alliance, in mind:
1. Check out unfamiliar sellers. Research the companies with the Better Business Bureau. If you're using an auction web site, check the seller's feedback information and ratings to ensure it's a legitimate merchant. It's important that you get the actual name and physical address of the merchant. This information will make it easier to research the merchant with consumer protection agencies.
2. Note delivery costs, schedule, and method posted by each seller. You can sometimes find merchants who offer free shipping, which can save you a bundle. But be sure you read their delivery policies carefully: Do they offer a delivery window? A "white glove" policy? In-house or curbside delivery?
3. Make safe payments. First, never make a payment through an unsecured payment screen. When you get to the screen on which you're entering payment information, the first part of the Web site address should change to "shttp" or "https," which lets you know that the information is encrypted. Some browsers also display icons, usually at the bottom of the window, that indicate an encrypted screen. Never enter personal information into a pop-up window. Also, it's always best to pay with a credit card, because federal law allows you to dispute the charges if you don't get what you were expecting. Don't forget to check your credit card statements carefully for overcharges or unauthorized charges.
4. Keep all documentation related to your purchase. Print an order confirmation and keep all packing slips and invoices once your sofa arrives.
5. Beware of unsolicited e-mails and phone calls claiming that there's some sort of problem with your order. If you're ever requested to provide any information this way, it's your queue that you're dealing with a scammer.