Have You Considered These Space-Saving Bed Designs To Maximize Your Interior Decorating Space?
By Vanessa Kirkland
Vertical and functional space planning are two of the most overlooked areas in most households interior design layout. In this article we'll discuss how to double the functional space in the bedrooms of your house.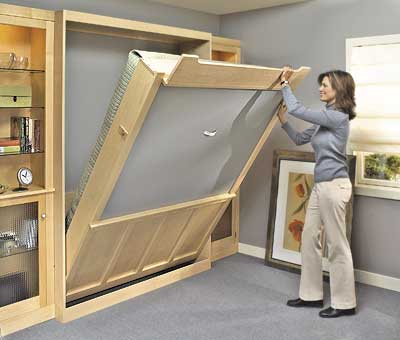 Think Vertical
Effective space planning and interior design requires that you plan in three dimensions - so start thinking about the space above your head and higher up on the walls. There are great functional bedding and storage solutions you can use to easily double your floor space in a bedroom and its functional storage space.
Futons for the guest rooms
Why waste the functionality and floor space of a designated guest room when it can normally operate as your den or library? When guests are expected, simply fold down the futon and make it into your guest bedroom.
Loft beds for older children
Loft beds are excellent functional solutions for older children that also want to use their bedroom as a social hangout or study room. A loft bed allows you to place a sofa or study desk underneath the bed. This also creates a great atmosphere under the bed that is private and quiet.
Bunk beds for the youngsters
When there is more than one child in a bedroom bunk beds are a logical solution for using more of the vertical space available in a room, and also creates more space on the floor for playtime.
Murphy beds for studios and 1 bedroom apartments
Murphy beds are a great bed design to incorporate when space is on limited supply. Installing a Murphy bed will instantly open up the room floor space. In small apartments, installing a Murphy bed can have the effect of feeling like you've just added another entire room! Murphy beds are also a great option for adding to dens or studies to create a guest room.
High platform beds for more storage
Platform beds are becoming very common now as bed designers switch from using bulky box springs to sleeker and more durable platform supports for bed designs. The old space of a box spring easily creates another vertical foot of potential storage space under your bed. For a regular king size bed, this will create an additional 42 square feet of storage space under the bed.
Air beds for emergency guest rooms
If your spare rooms in the house are dedicated to other functions that you really don't want to give up, then consider getting an airbed to use when having house guests stay over. Air beds are portable, inflate quickly, and have good support and functionality. You can also get air beds that quick inflate themselves from a small duffel bag.
Trundle beds
Trundle beds are great to have in kids rooms to pull out for sleepovers and can operate as a second temporary bed if the need arises. When not in use it simply slides back under the bed. If you have a trundle bed then you can free up more space in your storage room by getting rid of any fold out cots or beds.
Day beds
Day beds are a functional bedding alternative that also creates a sitting area during the day. Great for apartments, girls rooms, or dens and guest rooms.
Captain's beds
To maximize storage space in your child's room consider a captain bed. With so many drawers under the higher bed frame you can do away with separate dresser drawers to free up more floor space.
If you start to think vertical in you interior space planning you can be on your way to doubling your useable interior floor space in your home. For more bed resources and design tips you can visit http://www.loft-beds-bunk-beds.com/loft-beds.htm